Posts Tagged with "Business"
Comments Off on Press Release: Blacknight Celebrates the Holidays Early With the Launch of Christmascracker.biz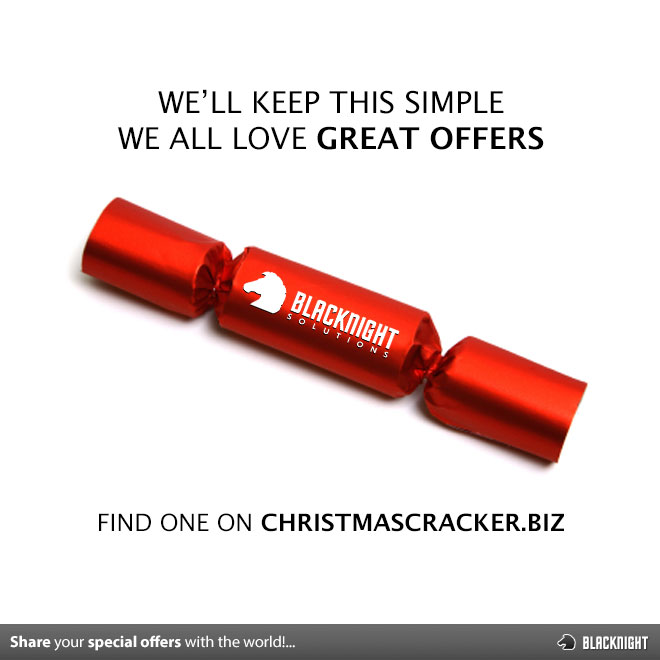 We've launched! And the below press release was sent out earlier today to Irish and international media. Any questions? Let us know!
Blacknight Celebrates the Holidays Early With the Launch of Christmascracker.biz

November 29, 2012 – Carlow, Ireland – Superstar domain name registrar and website hosting company Blacknight are using their marketing powers for good to help clients promote special offers during the holidays with Christmascracker.biz.

Blacknight have created Christmascracker.biz (https://christmascracker.biz) as a forum for their clients to increase exposure and promote discounts and offers to potential customers. Participating businesses are encouraged to list their holiday special offers and discounts on the site. Visitors to the site can browse businesses by category of service or by individual stores.

Participants such as Fotolia, Zemanta and Spinnaker Pro are already using Christmascracker.biz to share discount codes with the public.

Michele Neylon of Blacknight states: "We love to run holiday promotions for our customers and show our clients how much we appreciate them. We are very excited to launch Christmascracker.biz, as it is a great opportunity to do both of those things at once. We know from experience that marketing and promoting your business is hard work, so we've put together this site to help Blacknight clients promote special offers and discounts for the Christmas period. This in turn allows Blacknight customers to get great deals on some vital online services."
Visitors to Christmascracker.biz may choose from a variety of coupons from online companies specialising in areas such as blogging software, stock photo archives and marketing services. Discount offers may be redeemed by the customer on the offering company's website.

Blacknight encourage their clients to take advantage of Christmascracker.biz to increase their holiday output and reach out to new clientele. The registrar and hosting company has run similar successful promotions in the past. Former participants include Infacta, My New CV and Eireann Design.
Neylon continues: "We have a record of running this sort of promotion in the past with excellent results for our clients. Blacknight has a very broad marketing reach and we are pleased to extend the benefits to our clients to connect them to new a new audience of potential buyers who may need their services but don't know how to find them. We chose the domain Chrsitmascracker.biz to promote the site as .biz is the Internet extension for businesses and we want to show our full support for online businesses down to the last detail."
Christmascracker.biz is ideal for any business or company that offers online services. Register today to take full advantage of this promotion.

Visit https://christmascracker.biz to participate.
To learn more about The Blacknight suite of hosting and domain services please visit http://www.blacknight.com

About Blacknight:
Blacknight are an Irish based, ICANN accredited domain registrar and hosting company. Recipients of several awards for their revolutionary use of social media, Blacknight are one of Europe's most cutting edge Internet companies. Blacknight constantly seek to lead the way by introducing innovative solutions for its client base and provide dedicated servers and colocation as well as a comprehensive range of Microsoft Windows and Linux based hosting plans and domain name registration services to business globally.
Related articles
Comments Off on Small Businesses Should Help Each Other

We like the idea of small businesses helping each other out.
So we've decided to launch this site to do just that – to help promote our clients to the world
The concept is pretty simple.
If you are a Blacknight client and you have a discount or promotion you can share it with the world via this site.
We'll work hard to promote both the site and the individual offers.
Like the idea?
Hate it?
Let us know!